The world of social media never stands still for long. With content, trends and algorithms changing by the minute, brands need to be adaptable and reactive on social media to grab those 'in-the-moment' opportunities.
Being reactive on social media can be an effective way to reach new and existing audiences at the right time, and get your business out there. With some of the greatest examples of recent years, we take a look at how you can use reactive social media tactics to boost your brand…
Beans on…Weetabix? – How Weetabix Caused A Viral Social Media Storm
You have to be living under a rock to have missed the latest furore on Twitter caused by Weetabix and Heinz. In February, the iconic cereal brand shared a very questionable new recipe that featured a very recognisable product by Heinz; baked beans on Weetabix. Yes, you read that right.
The tweet posted by Weetabix's official account went viral, amassing over 100,000 retweets and 130,000 likes within just a few hours. Simple idea, but incredibly effective!
Then something magical happened. Noticing the level of engagement and popularity of the tweet, brands began responding with humorous tweets that piggybacked on the original concept, and soon any brand worth their salt was weighing in on the debate. Innocent, NHS and Microsoft were a few of the big names getting in on the joke, with their hilarious replies quickly gaining their own likes and reshares. Citizen's Advice tickled Twitter followers with their reply 'We can't advise anyone to try this…' while dating app Tinder jumped in with 'Trust us, this is not a match'.
We(etabix) Didn't Start the Fire…
While not a new concept, this type of 'reactive' content is not just great publicity for the brand who started it, but an open platform for unrelated brands to also get themselves seen as being part of the conversation.
Back in January of 2020, Sainsbury's quickly jumped on the fact that Beyonce's clothing collection Ivy Park appeared remarkably similar to Sainsbury's staff uniform. The exchange – which included an image overlaid with the text 'the original' – went viral and became a memorable moment in internet history.
Seasoned social media managers may also remember Netflix wading in on the infamous #WagathaChristie drama of 2019 between Rebekah Vardy and Coleen Rooney, posting the ever-witty retort: 'We're going to have to make a Netflix documentary about this aren't we?'
The truth is that while reactive PR and newsjacking has been around for decades, this has filtered onto social media, allowing brands, celebrities and users to react in real-time to breaking news, internet drama, campaign exclusives and controversial comments!
Why Reactive Social Media Works
The truth is that all brands secretly hope for that one 'viral' moment that catapults their social content in front of new audiences; gaining valuable engagement, new followers – and if you're lucky – a lasting relationship with your clients or customers.
Your social media strategy should already be flexible and adaptable to the changes that come with existing online so introducing this tactic doesn't take too much extra planning. You never know when you're going to have to update your post schedule, pause a campaign or respond to comments from users within the shifting sands of social media, so knowing how to spot an opportunity is already a huge part of social media management.
Reactive social posts help show that you're on top of your game and willing to wade in on the wider, relevant conversations online. It can be a great way to show your expertise and get involved with the topical discourse within your industry.
It can also allow you to build a relationship with other brands – or indeed, bridges between yourself and competitors. Best of all, it can put you in front of new audiences, who may later become customers or clients.
And Why It Sometimes Doesn't….
It should be mentioned, however, that often these viral and reactive social media moments are unpredictable, 'fluky' and shouldn't solely be relied on to build a social media strategy. That said, there is a lot of value in being prepared to 'jump on the bandwagon' when the opportunity arises.
There's also the issue that provocative 'reactive' posts sometimes do not work so well – it takes practice to 'read the room' when reacting on social and even larger brands get this wrong. Burger King recently discovered this when planning their International Women's Day campaign, but that's another conversation for another post…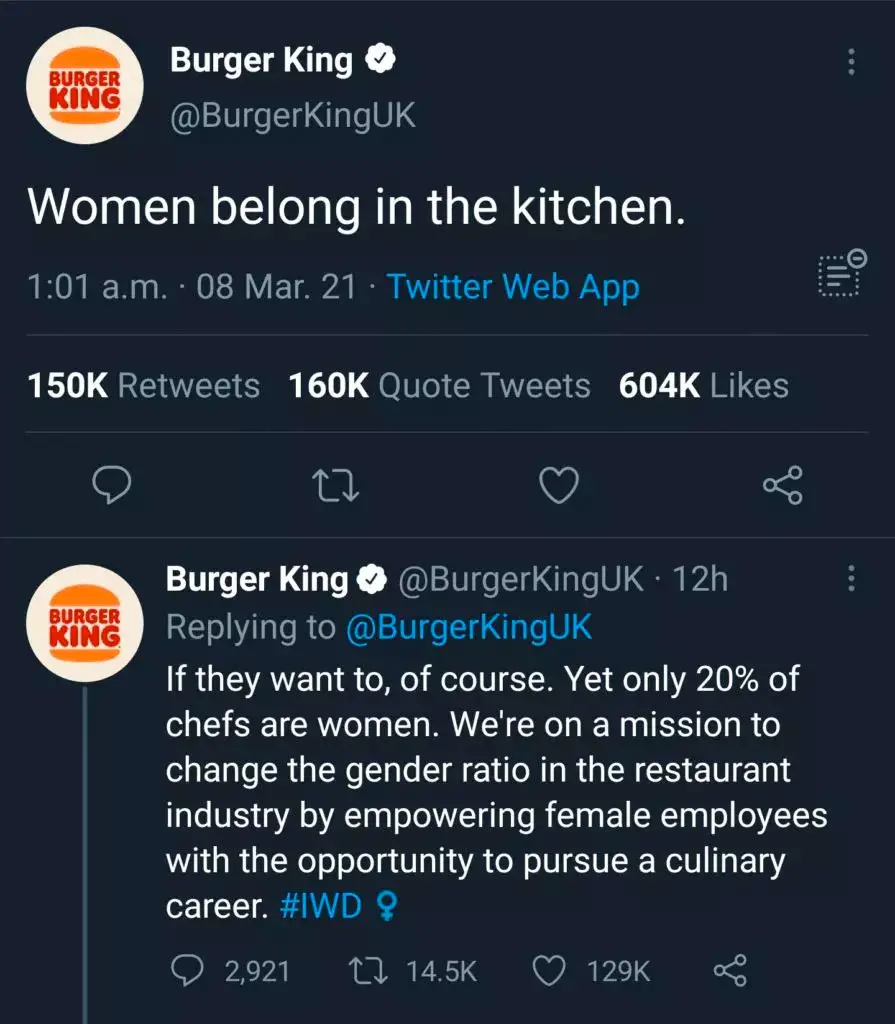 Tips on Being Reactive on Social Media – How You Can Ride the Wave
There's no set formula to creating great 'reactive' content because by its very nature, it's unpredictable. However, there are some ways you can prepare so that you're ready to use this tactic whenever the opportunity should arise…
Plan Ahead for Opportunities
It might seem strange to plan ahead to be reactive, but keeping an editorial calendar of upcoming events or dates which could relate to your business keeps you aware of what's happening, and how you might need to prepare content around these dates.
Set Up Social Listening
'Follow' your own brand hashtags as well as topic-hashtags that are relevant to your business. This means you can regularly check in to see which users online are talking about your brand, products or topics which might relate to you. This provides opportunity to potentially jump in on the conversation, and add value.
Trend Spotting
Stay on top of current news and trends; the 'trending' and 'Explore' features on social channels will also allow you to see popular content and topics people are engaging with the most.
Follow and Monitor the Right People
Social media is full of competitors, big brands, influencers, journalists and media sources; be sure to follow the ones that might be sharing content you can react to! Following news outlets and industry titles means you can jump on topics that people are talking about, while also keeping an eye on what big brands or your competitors are doing so you can reshare, engage and interact with their content.
Bring Personality but Don't Lose Your Brand Identity
The beauty of the Weetabix Twitter reactions was that each reply was highly 'on-brand' for the account commenting. While being reactive is great, don't lose your brand voice or identity by trying to get in on the joke. Doing what feels organic to your brand is key.
Stay Relevant
Not all 'reactive' opportunities or trends will be right for you. While in some cases you can make it work, it's very unlikely that a manufacturing company will be able to jump on the back of content around Great British Bake-Off. Ensure that your reactive content remains relevant to your audience and your brand. Remember, if it feels too forced, it probably is.
Read The Room
Even though you have to be quick off the mark, take a second to think before you post. It's important that your reactive post doesn't cause offence or alienate your followers. If you're in doubt whether a topic is too risqué, divisive or that it might upset people, the best thing to do is stay clear. Some brands can make cheeky, 'disruptive' style of content work but many can still misfire and land themselves in hot water. Choose your words carefully!
Keep It Simple
Reactive content should never be time-consuming or over complicated. While you can spend time and money on planned campaigns, spending hours on a graphic or video for a reactive post will only hold you up. Work with what resources you've got to act quickly – a simple, well-written, witty tweet can do the job just as well!
Be Ready
Time is the enemy of reactive social media. Trends can come and go within a matter of seconds, so you need to be 'always on' to react quick enough. This might include briefing your team, and anyone else who might need to 'sign off' your content so that they're ready to give you the go ahead to post within a short lead time.

These moments can be fleeting, so you need to strike while the iron is hot. While there may be longevity in some cases, replying 24 hours later when the buzz has died down just doesn't work.
What is your favourite example of reactive social media that you've seen from a brand? Tweet us your responses @NarrativeComms.
This post was created on 15th March 2021
Under the category Blog